Beijing City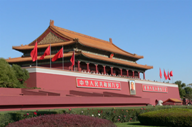 Beijing, as the capital of China, is the nation's political, economic and cultural center and is unique in its history, tradition and character. From the 12th century to 1911, it was the capital of the Jin, Yuan, Ming and Qing Dynasties. Now Beijing is shaping itself into a thoroughly modern metropolis, covering an area of 16,800 square kilometers and encompassing a population of 13 million. You will find the city an unforgettable destination, with its ancient Great Wall, the Forbidden City and numerous palaces and temples as a reminder of dynasties lost in the mists of time. Moreover, the city has refreshed its character by the growing numbers of parks and recreational centers, the folk shows during holiday celebrations, the splendid theatrical performances, and the grand city outlook.
Airport to the City
Beijing has an extensive public transportation network. Subway and City Rail with high speed trains running at intervals of 3 to 5 minutes are the fastest public transportation in the city. There are more than 60 thousand taxis in the city. Public buses are the cheapest means of transportation which cover the entire city. After arriving in Beijing you can go into the city by airport shuttle or by taxi.
[table id=12 /]
When in Beijing, you have many different choices to get around.
By Bus
City public buses run from 5:30 till 23:00 daily. Taking buses in Beijing is quite inexpensive but less comfortable than a taxi or the subway. The flat rate for an electric car and ordinary public car is 1.00 CNY. Buses equipped with air-conditioning or of special line are charged according to the distance. Few foreigners like getting around by bus, because it is always crowded, especially during rush hours (6:30-9:00 and 17:00-19:00). Some conductors give the stops name in English but they can't speak any more English. Write down some commonly used sentences in Chinese is quite helpful. Minibuses, serving from 7:00 to 19:00, charge the flat rate of 2.00 CNY guaranteeing a seat. They are faster and more comfortable.
By Subway
Most visitors, Chinese or foreigners will find the subway train clean, fast and relatively comfortable, except during weekends or rush hours, when the subway train is very crowded. The subway runs every 3 or 5 minutes daily from 5:00 to 22 or 23:00, according to different first stations and the fare is 2.00 CNY per ride for any distance. There are two subway lines in Beijing: one runs under Changan Avenue and its line extends from Sihuidongzan in the east to Pingguoyuan in the west; another one circles under the northern part of the Second Ring Road. You can transfer between these lines at Fuxingmen station and Jianguomen station with no transfer fee.
Subway entrances are show on city maps. Each station usually has four entrances. The entrances can be identified by a large blue sign with letters BD inside a circle. If you still can not find it, you may ask a Chinese "di tie". Walk down stairs to enter a station the tickets are sold above the platform. When going down to the platform, hand your ticket to the checker at the top of the stairs. On tunnel walls of the platform, you can see signs and maps in Chinese and Pinyin indicating the next station and helping you to decide which subway train to take. Over the door inside the train you also can find complete system maps in Chinese and Pinyin, and an announcement tells you the name of the next station both in Chinese and English. If you find you are on the wrong train, you can just get off at the next station, (It usually takes about 4 or 5 minutes to travel between stations.), and get on the train running to the opposite direction. No transfer fee will be charged.
By Taxi
Its very easy to hail a taxi anywhere in Beijing. Taxi is the preferred transportation choice for most foreigners, because they are inexpensive and plentiful. The taxi charges 10.00 CNY for the first tour within 4 or 5 kilometers and 2.00 CNY thereafter per kilo. The bridge and road tolls will be paid by passengers. For a journey that takes longer than 10 kilo or running after 23:00, the fares will be charged at 50% more. Ensure that the driver starts the meter. You can ask for a receipt which will have the number of the taxi printed on it. Have this handy in case of complaint. Most drivers can't understand English, so write down your destination in Chinese beforehand. For taxi complaints, ring 6835 1150.
Insurance
The conference organizers do not accept any liability for personal accidents or loss or damage to the private property of any participants during the conference or indirectly arising from attending the conference. It is advisable that participants should take adequate travel and health insurance before leaving their own countries.
Time Difference
8 hours ahead of Greenwich Mean Time (GMT +8)
Currency
Chinese currency is called Ren Min Bi (RMB) or Chinese Yuan (CNY), which include 1 yuan, 2 yuan, 5 yuan, 10 yuan, 50 yuan and 100 yuan, 10 cents, 20 cents, and 50 cents. 100 US Dollars are roughly equal to 650 CNY. For the latest and exact exchanging rates, please visit: http://www.boc.cn/sourcedb/whpj/enindex.html.
Credit cards
Credit cards are widely accepted at restaurants, hotels and stores across metropolitan Beijing.
ATM in China
ATM can be easily found and used in Beijing. Check the logos on your card. Foreign cards compatible with the Cirrus or Maestro networks can be used in practically every local bank or foreign bank like Citi and HSBC in Beijing. The Bank of China and many of Beijing's foreign banks accept Visa, Mastercard, Eurocard, JCB network cards. Take care, however, not to assume that every ATM in every branch will accept your card – the Cirrus/Maestro or Visa compatible ATMs are always clearly marked. No logo, no foreign connection!
Electricity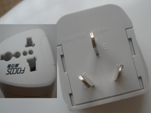 The electricity supply in China is generally 220V, 50Hz, AC. The Chinese standard three-pin mains socket is shown on the left. Overseas participants are advised to bring travel adaptors with them if necessary.
Language
Mandarin is the official language in China and is widely used in Beijing. However, there are some English services available in hotels, places of interest, subways and some other public places. Here are some daily-used Chinese in Chinese Pin Yin, which can be useful for you.
English —————————- Chinese Pin Yin

Hello! ————————————— Ni Hao!
Excuse me! ——————————–Lao Jia!
Sorry.  ———————————— Dui Bu Qi.
How much is it?  ——————Duo Shao Qian?
Where is it?  —————————— Zai Na Li?
It's a good day! ——— Jin Tian Tian Qi Bu Cuo!
Business Hours
Shopping malls, mobile service companies, some post offices and other public services open all around the year, including in public holidays. The standard working hours in China are usually 8 am to 5 pm or 9 am to 6 pm, except for major shopping malls and supermarkets, most of which will run from 8:30 am or 9 am and close around 9 p.m. in winter and 10 pm in summer. Usually, 7-9am and 5-7 pm are the peak hours, when traffic should be taken into consideration.
Telecommunications
International calls may be made directly from hotel rooms with IDD lines. With an IC card, you can also make domestic long distance calls and international calls from public telephones or you can apply for long distance call service in your place of accommodation. Internet services are quite popular nowadays in Beijing. Internet services are available at hotels, business centers and Internet cafe. Wireless Internet connection is provided at some restaurants and clubs. You can apply for various internet connections, such as broadband, ADSL, ISDN and dial-up. You can choose to pay on a monthly basis without time limitation or based on hours of use.
Mobile Service
China has two national mobile telecommunications operators, China Mobile Communications Corporation ("China Mobile" for short, GSM) and China United Telecommunications Corporation ( "China Unicom" for short, mainly CDMA). By the end of 2005, 100% of the counties (cities) had been covered by network with seamless coverage on the backbone lines and indoor coverage in key urban areas. China Mobile has provided GSM roaming services with over 271 operators in 206 countries and regions and GPRS roaming services with 93 operators in 101 countries and regions in the world. Its mobile short messages can be sent to 214 operators in 106 countries and regions and multimedia messages to 21 operators in 6 countries and regions. As for the number of CDMA subscribers, China Unicom reached 36.493 million and was ranked the second largest CDMA cellular operator in the world.
Express Services
EMS, DHL, UPS, TNT and FedEx provide express services in Beijing. All kinds of urgent documents and goods can be delivered to more than 170 countries around the world. You can ask for express services at large-scale post offices, at your hotel's business centre or even make a phone call for at-the-door collection. For EMS, you could call 185.
Tap Water
Tap water in China is considered hard and needs to be boiled before drinking. All hotels will provide boiled water or an electric kettle.
Restrooms
Travelers can easily find free public restrooms on the street, in office buildings, shopping centers, supermarkets, hotels and fast food restaurants.
Hotlines
Phone Number Service:
110: Police
114: Local Telephone Number Inquiry
116: Domestic Long Distance Inquiry
117: Time Inquiry
119:  Fire
120: Ambulance
121: Weather Forecast
122: Traffic Police
For further information, please visit the official website of the Beijing Tourism Administration at: http://english.visitbeijing.com.cn.